Passionate about building Shopify themes?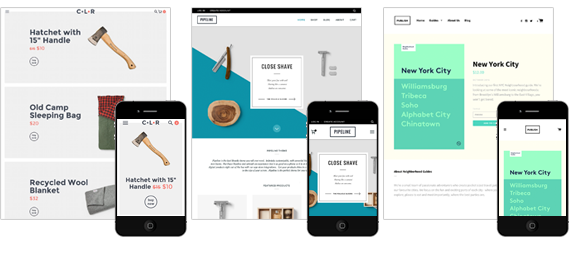 Join the Theme Store community
Shopify is the world's fastest growing commerce platform and we have no plans to slow down! The Shopify Theme Partnerships team is on a mission to make sure our merchants have access to the highest quality themes available. Every month, thousands of merchants look for new themes for their online stores. Our team is on the lookout for skilled, passionate designers and developers we can work with to create amazing themes for the Theme Store.
Important information to know before you apply
Here are a few things to consider before you send us your Theme Partner application:
Shopify themes need constant care and attention. We expect Theme Partners who work with us to be engaged, passionate about their theme(s), and apply any theme updates we request in a timely manner.
Being a Theme Partner is a full-time job. You will need to dedicate a lot of time updating your theme(s) as well as supporting the merchants who are using your theme. If you become a Theme Partner, you'll need to consider how you'll balance Theme Partner work with other jobs you are currently doing, or are planning to be engaged in.
Our current Theme Partners are a tight-knit group of people. We expect potential Theme Partners to be approachable and collaborative with the Shopify Theme Partnerships team, as well as merchants using your theme(s).
We want Theme Partners to actively contribute to the Shopify themes ecosystem, and work with us to help merchants succeed. The Theme Partnerships team will be working closely with you every step of the way during the theme submission process, and will continue to work closely with you once your theme is published. We have dedicated email and Slack channels set up to provide feedback, advice and support for all your theme-related questions and issues.
What to submit when you apply
Please email themes@shopify.com and include all of the following:
A link to an active Shopify website you built for a client.
A case study for the above Shopify website that details your experiences on the project. You will need to provide an overview of the project and the client. What brought the client to you? What were the client's needs, and how did you go about solving their problem? We would like to see your research, your workflow (prototyping and refining), and what you learned. Click here to get an idea of the structure we expect to see in a case study.
A cover letter that outlines who you (and your team) are, why you want to join the Shopify Theme Partner community, why you think you'd do well as a Theme Partner, and any other relevant information you feel is important for us to know.
A link to your design portfolio.
What happens after you send your application
After you submit your application, the Theme Partnerships team will review it. Our review will cover:
Design (layout, typography, use of whitespace, etc.).
UX (both merchant and customer facing, and a firm understanding of the Shopify platform).
Problem solving ability.
Coding ability.
Who you and your team are.
The Shopify Theme Partnerships team is not able to provide feedback to everyone who submits to us. We will only contact applicants who will move forward in the process. If we do reach out to you about becoming a potential Theme Partner, we will work with you on the next steps of the approval process. We want to see your very best work only. For this reason, applications are limited to two per month.
Your theme in the Shopify Theme Store
Once a theme has been built and approved, it may only be distributed via the Theme Store. Please do not distribute your theme on other marketplaces or third-party channels, or try to take customers away from the Theme Store.
Theme support
If there is a technical issue with your theme (for example: broken layout, dead link, logic error) you will be responsible for fixing the issue in a timely fashion. Critical bugs must be fixed immediately or your theme may be temporarily removed from the Theme Store.
Theme Partners are responsible for supporting merchants who use their theme(s). You will need to provide a public support email address, theme documentation, and assist merchants with their theme-related questions.
Themes will be removed from the Theme Store if they have made less than 25 sales in a 3 month time period. Theme Partners are responsible for keeping their themes up-to-date with core Shopify features and any improved standards Shopify implements in the future. These can include improvements to the overall user experience, the user interface, accessibility, and more.
What are the revenue share options for theme designers?
Theme designers have two options for revenue share:
1. 70/30 Split

The Theme Partner receives 70% of each theme sale. The Theme Partner is responsible for bug fixes, as well as answering any questions from customers regarding the theme.

2. 50/50 Split*

The Theme Partner receives 50% of each theme sale. The Theme Partner is still responsible for bug fixes, but Shopify can help answer any questions regarding the theme.

*The 50/50 Split option is taken on a case-by-case basis. Theme Partners may be asked to select the 70/30 option should the Theme Partnerships team feel it is the best choice.